Airtel Double Data Code, Eligibility And How To Qualify 2023
Airtel Double Data Code, Eligibility And How To Qualify 2023
This is another way of getting free data bonus on Airtel 2022 that doesn't need any cheat, the process is called Airtel Double Data code
This is not a new plan as it has been in existence since the time unmemorable.  Just that many aren't aware of it that is why we feel responsible to tell you more about it.
When you are eligible for this you will get 2X of every data plan you purchase. How does it sound? Isn't that great, Yes it is.
It's also worth noting that the Airtel Double data code isn't related in anyway with data cheat and not available for some customers.
Eligibility For Airtel Double Data code 2022
The Airtel double data bonus is not available for all sim cards. Yes you heard it right. However there are some tricks that might work.
Airtel Registered Sim Card
Send Get To 141
You will receive an SMS that you are eligible to get 100% data bonus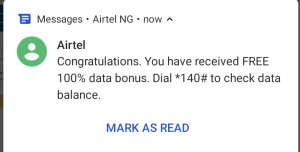 Once you received that SMS you are eligible for the double data.
How To Activate Airtel Double Data Bonus?
Insert your Airtel Sim card to your phone
Open your default dialer app
Dial *141#
Purchase any data bundle
Once you activated any bundle, you will receive double data.
You will receive 2X of any bundle you activated excluding the Airtel Social Bundle.
What to do if I'm not eligible? Here is a way to qualify.
How To Qualify For Airtel Double Data?
Qualifying for the double data on Airtel is not that easy and not difficult also.
This bonus is specifically designed for those who bought a new Tecno or Infinix phones, not necessarily new phone. But make sure you didn't enjoy it before.
Many phones are eligible for this offer so we can't waste our time to mention which and which. However, I'm using Tecno CAMON 12 to enjoy this.
Kindly send GET To 141 and try your luck. If you aren't Eligible for the Double Data insert your sim card to the phone of your friend and try sending the SMS again. Wish you all the best .
Don't forget to Join Our Telegram Channel for fast updates.