Make Money With Z-Union, Earn Up to 200 Every Day
Z-Union is an online shopping application that co-operates with online shopping platforms such as Amazon, eBay, Jumia, Inforib, and other shopping platforms merchant.
If you want to make money while completing task online, you will definitely love learning more about Z Union app.
We have seen and used different apps that pay for completing a task like Opay, Jumia, Inforib. This shopping platform has joined the line.
Guess what? Everybody is eligible to make money on Z-union. You only need to create an account which will take less than 2 minutes to complete.
Once you created an account with them, you can stand a chance to make money.
Z-Union Offers unique opportunity to make money, they allow users to place 20 free orders daily, each order will give you 10 Naira, that how it works.
The most exciting part of Z-Union is that you can make money without investing. Meaning; you can start making money without investing capital.
Worrying about not having people to refer? No problem, You can still make money on app.
Note that your earnings will be limited to 200 until you refer someone. You can extend your earnings daily by inviting your friends.
Z-union is paying a commission for every successful order placed by the person you refer, you would continue to receive your commission as long as the app functions.
People who love to make more money but don't have people to refer can easily upgrade to their preferred VIP Plan.
How To Open Account With Z-Union?
Creating an account with Z-Union is quite easy, You only need to click at this link, The link will redirect you to the Z-Union Official Website.
Make sure you registered with your active phone number. Also, Don't forget to write down your username and password to avoid being mistakenly forgotten.
Now Pick a username. If your username was taken then add a number to it, For example, Abdul10.
Once, you successfully created an account on Z-Union, you would be given a link to download z union application.
Download Z-Union App
Z-union app is not available on the Google play store yet. However, you can download it at this link. Make sure you open "Unknown Sources" as marked on the settings on your phone.
Minimum Payout in Z-union
It's also worth knowing the minimum payout in Z-union, which is why I decided to write it here. So, you will not look for another post to get more information.
The minimum payout is 200 naira, Yes! You heard it right, All earnings can be cashed out once it reaches the minimum withdrawal amount.
How To Earn Up to 200 On Z-union?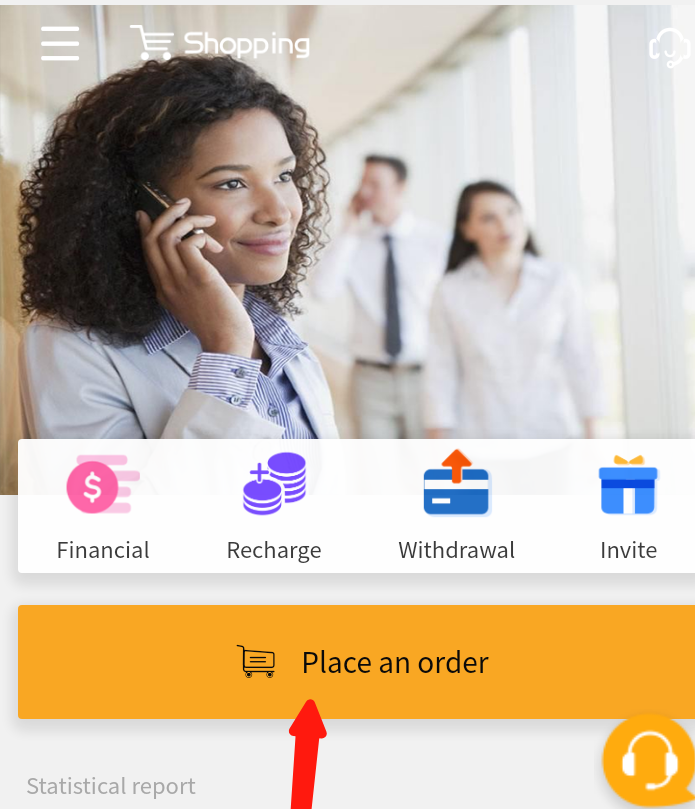 Open Z-union app
Click at the place an order, as shown in the screenshot above.
Wait for 20 seconds for orders to complete.
Once the order is completed, you will earned 10 Naira.
Note that you need to click at "place an order" to earn another 10 Naira. Continue to click at "place an order" to make more money.
How To Withdraw Money On Z-union?
Open Z-union app
Click on withdrawal, as shown in the screenshot above.
Now Click At "Withdraw Via" Write Your Account number and branch name.
Note that the alert takes 8-24 hours to deliver after withdrawal request
VIP Plans On Z-Union
Below are the list VIP Plans On Z-Union
VIP1 Gives you access to 6 orders per day with the requirement of 6000 Naira.
VIP2 gives access to 28 orders per day with the requirement of 15,000.
VIP3 gives you access to 30 orders per day with the requirement of 30,000.
VIP4 gives you access to 36 orders with the requirement of 60,000.
VIP5 gives you access to 36 orders per day with the requirement of N220,000.
When you upgrade to any of these VIP Plans your orders will automatically increase. An increase of orders is an opportunity to make more money on z union.
Let us quickly calculate the earnings of VIP Plan 3. When calculating the earnings on Z Union we multiply the number of orders times 10, so 30×10=300.
If you upgrade to 3 VIP Plan you would earn 300 Naira every day. Is not that good? Yes, it's.
What are you waiting kindly click at this link to register an account with Z-union. It's up to you to decide whether to upgrade to the VIP Plan or not.
Z-Union Review
For your info, we have reviewed Z Union and found out it's legit and not scam, everybody can feel free to join them.
How Z Union Works?
Z Union is just a simple income program that allows you to earn daily by referring your friends to their program.
People who aren't able to refer their friends can easily invest their money to upgrade in to any VIP Plan.
Once you upgraded in to any VIP Plan you would be able to earn without referring.
Things You Should Avoid On Z Union
Multiple Accounts
Z union doesn't allow multiple accounts if caught the account involved will be closed immediately.
Many people tend to be as they are smarter than Z-Union which is why they create multiple accounts with their referral link. 
Customers with multiple accounts are considered as scammers.
Referring Your Self
If you are caught referring yourself in order get a commission into a target account, your account will be closed immediately. 
You should better desist from any of these acts to keep your account alive.
It's also worth knowing that Z Union uses IP address to track people who refer themselves. Any IP address with multiple accounts can lead to suspension or termination of account.
If your account got suspended, just know that you are on your account. Meaning; it got suspended because you violated their rules.
Z Union has zero tolerance for self referring. Humble customers who didn't violate their rules will stay safe.
Conclusion
We have discussed almost everything about Z Union and how to use it. However, if you have any question regarding this, don't hesitate to ask me in the comment section.
I will try to reply to all the comments as quickly as possible.