How To Get $5 (2000) registration bonus from WhaleFin
WhaleFin is all-in-one platform to buy, sell, trade, and invest in crypto. You can buy coins with as little as US$1 and 0 transaction fees, including Bitcoin, Ethereum and Tether.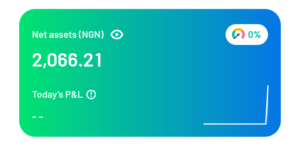 Store your crypto safely! Trusted by over 1M people worldwide which is why you should use it for your cryptocurrency activities.
WhaleFin may be the best and perfect option for those looking for a simple way to buy and sell cryptocurrencies without any worries.
Guess what? Apart from migrating to a best crypto exchange platform you will also get ($5) 2000 registration bonus, no action needed from your end, all you have to do is to apply my promotional code and you are good to go.
Features Of WhaleFin
Buy with fiat: buying crypto currency on WhaleFin is easier than ever, you can use your card to buy your preferred coin, regardless of the card type, either Visa or Master.
Institutional custody: If you are worried about how WhaleFin will handle your funds then you get to know this; WhaleFin uses the highest security standards that are ensured by leading institutional-grade custodians.
Competitive crypto prices: this is one of the best features, with this feature you will enjoy 0 purchase fees and  competitive coin prices!
Special welcome offer: Enjoy your exclusive reward of US$5 in Bitcoin for joining.
How To Register And Get $5 (2000) from WhaleFin?
WhaleFin APK (Download here)
Register with your legal name
Choose a strong password
Use this promotional code z0MAOP as your referral
Once you finished registering you will see $5 (2000) in your account.
However you need to verify your account before transferring your registration bonus, below are some certain things needed for verification.
Government issued ID card either Voters Card or National ID card
Face verification (selfie)
NEPA Bill or any document that includes your address in it like water bill or bank sstatement
You are advised to take the selfie in a white background to avoid rejections.
People who wants to earn more money can simply start referring their friends.
How To Refer Your Friends To WhaleFin?
Click on the referral as shown in the screenshot
Copy your invitation code and share it with your friends.
You will earn 8USD per referral
A Qualified Referral is a user who
completes identity verification
 makes a first-time deposit of 50 USD
holds a single subscription of Earn for 2-10 days with the subscription amount of USD $250.