Writing unique content becomes challenging when you research and write about something generic or commonly featured online. Human-level exceptional writing is only limited to those professionals who have years of practice in various niches of writing.
In this case, it is ideal to utilize modern-day technology for content writing. Artificial intelligence has brought us innovative writing solutions through a paraphrasing tool known as Paraphraser.io.
In this article, we will share some personal views and review the features of Paraphraser.io. We will also discuss its work and how it is beneficial to use in different areas of content writing, along with its limitations and advantages.
Features of Paraphraser.io
Paraphraser.io is an online platform that allows you to rephrase text to make it unique and readable. This tool is powered by AI technology which defines its automated functioning. Let us give you insights into this tool's prominent features and how they work.
1. Multiple Paraphrasing Styles
These options are an essential part of any online paraphrasing tool. Paraphraser.io offers three different paraphrasing modes, of which two are free to access.
The Fluency and Creative modes are AI-powered, the Standard mode only changes the meaning of specific words. We tried each mode to see the difference and learn if they work according to their designated name or not.
2. Fluency
The fluency mode brought us relatively accurate results by improving the readability of the original passage. We typed in a few sentences and paraphrased text to see the results.
In the output, we observed the highlighted phrases were comparatively more straightforward to read than the actual vocabulary featured in the original passage.
The fluency mode shifts the synonyms of specific words and phrases to make them easy to read. This paraphrasing style is preferable for blog writing and social media marketing content where people look for readable information.
3. Standard
The Standard mode is preferable if you want to maintain the original meaning. It reduces the fluff word by removing unnecessary words and phrases. The Standard mode maintains the authentic tone and intent to keep the written content readable as it should be.
However, synonym replacement was relatively lower in the Standard mode compared to the fluency mode.
4. Creative
This mode is relatively helpful if you want to do academic writing. The choice of words and phrases featured in this mode is unique compared to the Standard and Fluency modes.
Creative mode is available only for premium users, so you may have to subscribe to a monthly or yearly premium package to avail of the complete services.
5. Multiple Language Selection
Another convenient feature of this paraphrasing tool is the language selection options. It supports 14 languages besides English, which is ideal for writing linguistic assignments, research papers, or journalism documents.
The assistance of the language selection menu saved our time and effort in translating the text into English before paraphrasing it. The language menu is featured on the lower right side of the control panel. You can click on the menu to reveal a list of languages to choose from.
6. Accessibility
This tool supports freeware accessibility for most features without registration or sign-up. It also supports two paraphrasing modes and allows you to paraphrase 500 words for free.
The option to upload a file is relatively more convenient than manually typing or pasting the word count in the input box. The file can be uploaded in various text formats. Similarly, it allows downloading the paraphrased text in an editable document file.
We can access this online tool from any device which supports browser integration. The tool is also available as a smartphone application on Google Playstore and Apple App Store.
7. Proofreading Services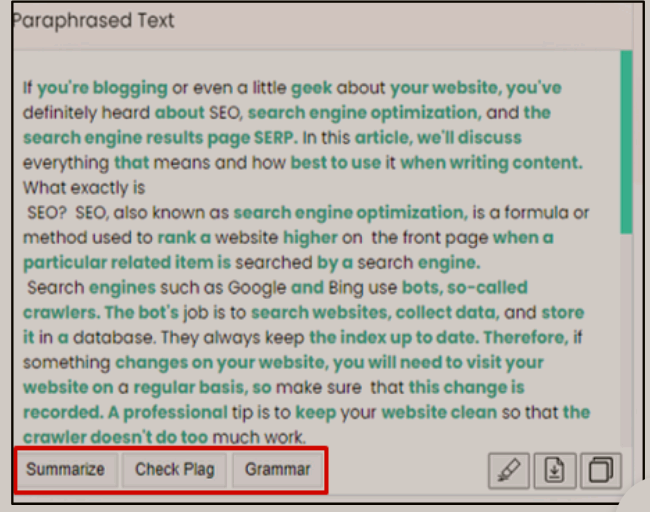 In addition to the paraphrasing service, the tool provides proofreading options to check plagiarism and grammar errors in the paraphrased content to ensure its quality.
These services have their limitations regarding word count and accessibility, but they work nicely with the main tool. These options are shown under the final output once you have paraphrased the text.
8. Pros & Cons
Every tool has its benefits and downsides, which vary depending on its usability and features. When using Paraphraser.io, here are some pros and cons that we found:
Pros
Allows to paraphrase up to 5000 words for free.
Supports up to 14 different languages other than English.
Provides three different paraphrasing styles.
Highlights paraphrased text for easy comparison.
Supports file uploading and downloading options.
Cons
It only supports 1000 words, even with the premium packages.
It has too many ads on the interface.
Applications of Paraphraser.io
With its excellent features and user-friendly interface, we have used this paraphrasing tool in various online and academic fields in the following ways.
Academic writers can use Paraprhaser.io to reduce or remove plagiarism from their assignments and research papers.
Digital marketers can develop fluent copies of marketing content with better readability scores.
Students can enhance their vocabulary by learning new ways of paraphrasing from Paraphraser.io.
Pricing Details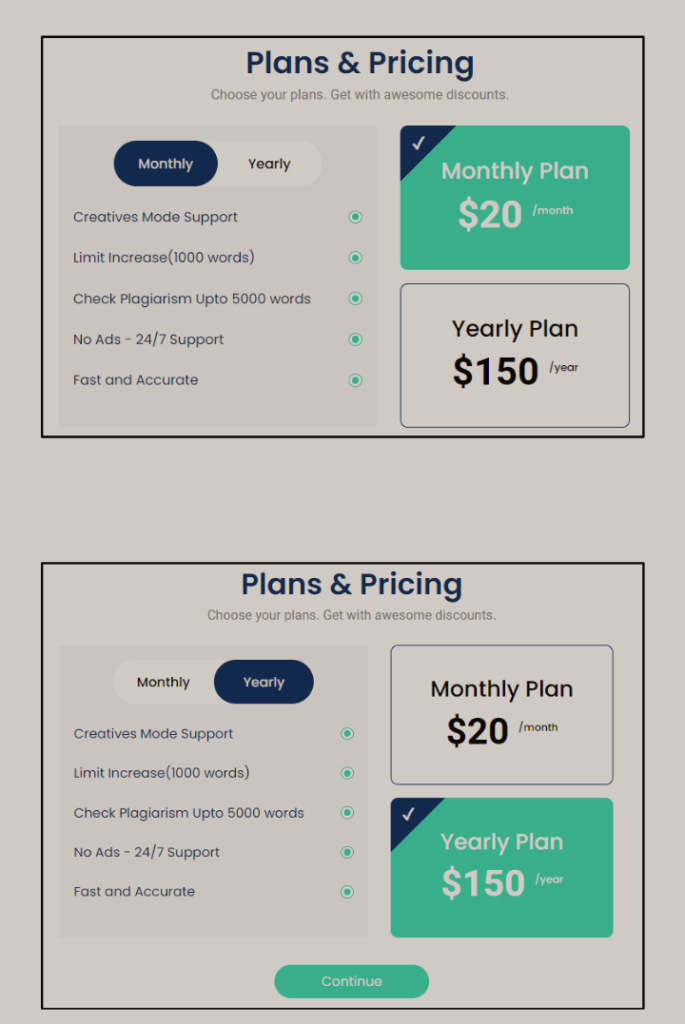 Conclusion
In this review article, we took an in-depth look at the features and working of Paraphraser.io and how it can help digital marketers and academic writers. We also shared applications and pricing details of this tool to assist your user experience. We hope our experience and review of this tool revealed some insightful information for you.