SHAREit Lite: How To Get Free Airtime On Glo, MTN, Airtel, 9Mobile
SHAREit is the second most used mobile application for files transfer. It's 200 times faster than Bluetooth and guess what? the highest speed goes up to 42M/s.
Apart from files transfer you can also get free Airtime on MTN, Airtel, Glo and 9Mobile. The most exciting part of this is; you don't necessarily need to refer before claiming free Airtime.
We are pretty much sure that you will make a lot of free Airtime and withraw it if you follow our straightforward guide.
There are many ways to get the free Airtime on SHAREit, we suggest you read all the post without skipping any paragraph.
Let's take a look at the other features and download link of the SHAREit lite before heading to our main topic.
Features Of SHAREit Lite
Below are some features of the SHAREit mobile Transfer application.
File Manager
The SHAREit lite comes with in-built file manager that allows to view all the files of your phone without any stress.
Phone Booster
This feature will clean of all the catches and junk file with just one click. Incase you didn't know, your phone will work faster after clearing cache and junk files.
Infinite HD & Selective Online Video
This is yet another features that let's you find wonderful high quality videos, most of these videos are funny videos which I'm very sure you will make your day. You can also download the videos you like.
SHAREit Lite Download Link – Get Free Airtime
Here is a a direct download link to SHAREit lite app.
How To Get Free Airtime On SHAREit Lite?
As we clearly stated, this works on all networks, Airtel, MTN, 9mobile and Glo
Open the SHAREit Lite app
You will receive a welcome box, Click on "Claim".
You will be redirected to another page
Register using your phone number and confirm verify it with OTP.
You will receive +6000 diamonds as a welcome Bonus.
Now that you have received free diamonds as a welcome bonus you will need to get more diamonds for you to get more airtime.
Below are the ways to get more airtime.
Click on the invite code
Use this number 25165 as your invitation code
Once you submitted the number above as your invitation code you will receive another diamonds which can be converted to Airtime
Other Ways To Claim More Airtime On SHAREit Lite
You will notice that there are like 3 to 4 boxes on your dashboard. Make sure you open every single box, opening them all will give you more coins.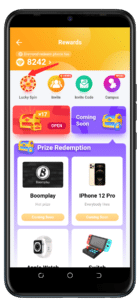 There is a spin and win which I'm very sure you will get alot from it.
You can also earn more free Airtime by referring your friends.
How To Withraw SHAREit Coins and Convert Them To Airtime?
Open your reward dashboard
Click on your balance
You will be redirected to page where you can Claim and Convert your coins to Airtime
Put the amount of coins to want to convert
Confirm your phone number and confirm
How To Unlock Your Account?
If your account gets blocked you should clear the data of your share it lite APK via the settings of your phone.
Don't forget to delete the app from your phone too after clearing its data. You have to wait for atleast 48 hours before installing the SHAREit and login again.
If the ban is not lifted after 48 hours, rest assured that you must contact SHAREit Lite support team.
Feel free to drop your questions in the comment section.